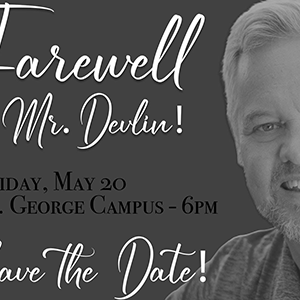 Farewell Party for Mr. Devlin!
We are thrilled to celebrate 17 years of Mr. Devlin! We hope you and your family are able to join us for this fabulous send off on May 20th at 6:00 PM on the St. George Campus. Help spread the word and share this with all of your SG friends.
Please fill out this form to RSVP. We are also collecting pictures for a running slideshow during the event. Click here to upload any and all great pictures you have!
May 20, 2022 @ 6:00 pm - 8:00 pm