The St. George Fine Arts experience enriches our students' education and supports a well-rounded foundation. The fine arts are woven into the class offerings in our lower and middle school divisions, as well as through our Beta Club and other extracurricular offerings.  The year is full of events that allow our artists to shine both on and off-campus, including at state-wide and national competitions where our students consistently earn top honors. The sustained success of our students is a true testimony to the dedication and expertise of our Fine Arts faculty across all divisions.
The Performing Arts are a well-loved part of the fine arts program at St. George. In the lower school, students immerse themselves in early dramatic development through onstage programs performed by each class, called Coffees and with larger groups in the Christmas Programs. These programs help develop a sense of inner confidence that continues to shine in our students as they mature. Students in the lower school also have performance opportunities through our private music enrichments and with our own St. George Ballet Folklorico dance troupe.
In the middle school, students are provided a wide array of opportunities to fine-tune their artistic skills and flex new creative muscles. Through our annual middle school musical, students are offered the chance to have an exciting theater arts experience on our newly renovated performing arts stage. This extracurricular offering allows students the opportunity to learn technical theater, set design, performance techniques, and gives them a genuine theatrical experience that is comparable to other children's community theater offerings in San Antonio. The National Beta Club provides our students the opportunity to compete in the performing arts through their state and national competitions in solo, duo, trio, and group talent. Our students have consistently placed well at both state and national levels.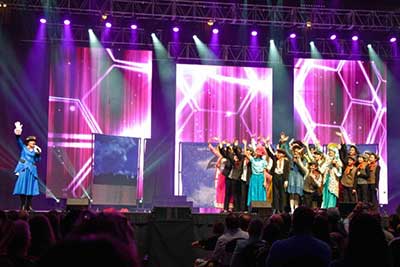 In music classes, lower school students are introduced to instruments and musical styles from all over the world. They move expressively, create through composition, and develop an appreciation for global music. Our music classes use the Kodaly and Orff methods together in an interwoven style that highlights the best parts of these music teaching techniques to create an atmosphere of expression and exploration in the classroom.
As students move to middle school, our elective and class offerings give students the opportunity to refine their digital skills in the electronic music studio and further develop their understanding of the many different styles and genres of music and how each is defined. Ensemble offerings are provided through our private music studios, strings program and through our Beta Club as we prepare for state and national competitions.
All students are also offered the opportunity to take private lessons through our private music studios in voice, piano, guitar, and drums. We also offer a strings program after school that allows students to study violin, cello, and double bass. In addition, students in this extracurricular program can choose to participate in the orchestra ensemble that meets once a week.
Classes in the visual arts are provided for every grade level at St. George. In these classes, students are given the opportunity to explore and create through an array of different creative media. Using the pillars of art education, the visual arts program gives students the opportunity to come into a space of creativity and expression that knows no limits. Our artists are highlighted in our community throughout the year on digital displays in our Leadership Center, on campus boards, and through our digital media. Our students' work is also highlighted at local businesses in our area. Our middle school students compete at the state and national levels in visual arts through the National Beta Club, and our students have consistently placed well at each level. The highlight of the year for the Visual Arts program is the annual "Rue De St. George" art show. This showcase transforms the campus of St. George into a beautiful art walk that celebrates the best of our students' creativity.