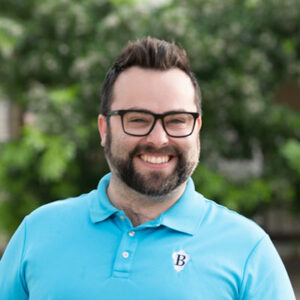 Education:
University of Texas at San Antonio
Bachelor of Music, 2008
Year Appointed:
2009
Why St. George?
"St. George has an incredibly positive and encouraging atmosphere for students and faculty. It is a very supportive campus that provides students with a well rounded education. Because of this, I decided that I would love to be a part of such an amazing place!
My family is blessed to be a part of both the school and church community here. My wife Shannon and I have two lovely daughters named Lillian and Scarlett who both have attended St. George since Junior Kinder. I love that my work in many areas on campus keeps me deeply connected in both the school and church communities here at St. George. This place lifts me up every day and I am honored to be a part of the team that helps make the St. George community thrive."