The Parent-Teacher Organization (PTO) is comprised of parents or guardians of students enrolled at St. George, faculty and staff. The organization provides support for the academic, moral and spiritual programs of the school through parent teacher involvement and communication among parents, faculty and staff.
St. George welcomes parent support and involvement. The PTO runs the Used Uniform Store and provides many opportunities for parent volunteers to provide extra help and enrichment for the student body and faculty. Parents who are interested in volunteering time and services are asked to contact the school office or the PTO President.
2018-2019 PTO Board Members:
President – Kellee Lipscomb
Vice President – Victoria Kohler-Webb
Secretary – Cory Fritz
Special Events Officer – Crystal Uzquiano
Fundraising Officer – Myra Diem
Lower School Coordinators – Judith Cepeda, Stephanie Sierra-Martinez
Middle School Coordinators – Michelle Matthews-Kasson, Julie McLaughlin
Enrichment Officer – Melissa Bizon
Public Relations Officer – Marcy Charman
Volunteer Coordinator – Kerry Muller
Teacher Rep. – LS – Kendra Lopez
2018-2019 PTO Board Members:
Teacher Appreciation – Tina Johnson, Kelly Quezada
Used Uniform Sales – Anna Ochoa Espejo
PTO Gently Used Uniform Store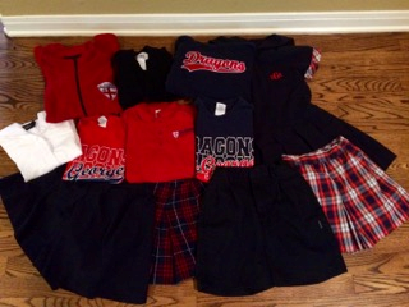 The PTO collects uniform donations throughout the year, and after cleaning and mending each item, re-sells them to our school families at huge savings. Proceeds from used uniform sales underwrite events such as the Howdy Dance, Dragonfest, Kinder Halloween Carnival, and the Thanksgiving Family Luncheon to name a few.
Questions?
Email us at saintgeorgepto@gmail.com or contact Anna Espejo at 210-363-6583.
It's easy to purchase used uniform items:
Request your items via email at saintgeorgepto@gmail.com. Be sure to state the desired size and quantity.
We will notify you when your order is ready for pick up in the attendance office with Ms. Roberta.
See prices below.
Boys Polos Short Sleeve $8.00
Boys Polos Long Sleeve $10.00
Girls/Boys Shorts $8.00
Girls/Boys Pants $10.00
Girls Skirts $12.00
Girls Culottes $12.00
Girls Blouses $8.00
Girls Jumpers $20.00
Girls Ties $3.00
PE T-Shirts and Shorts $5.00
Hair Accessories $2.00
Spirit Shirts $5.00
Hoodies (gently used) $20.00
Hoodies (new) $30.00
Fleece (gently used) $20.00
Fleece (new) $30.00